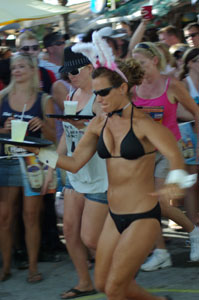 Sunday's 15th annual Battle of the Bars at Schooner Wharf raised a record-breaking $27,653 for local charities Literacy Volunteers of America and Boys and Girls Club of the Keys, besting last year by nearly $10,000. The overall total is now $165,653 during the Battle's history.

"It was an overpowering sense of giving", said Dan Dombroski, executive director of Boys and Girls Club of The Keys. "People were pulling money out of their pockets – everyone gave something, whether it was $40 or $6,000. It was unbelievable."

Mary Casanova, Executive Director of Literacy Volunteers, added "It was a great day – I was so thrilled. It's a big chunk of money and it will make the rest of the year a whole lot easier."

The competition was fierce as 36 teams from Keys bars and restaurants were pumped up to win in the steamy afternoon sun. Excitement was high as the 7-person teams ran the obstacle course – poured and served a margarita, recycled bottles, rolled and tapped a keg, and drank beer.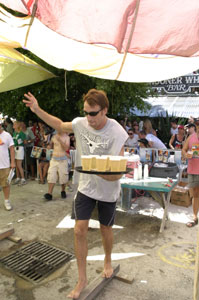 Team "Raw Bar Rowdies" from Half Shell took home the championship title for the third time, along with a trophy and bragging rights, with a final round time of 1 minute 54 seconds. The "Bourbon St. Fruit Salad" captured second place and third place went to TGIFriday's "F'n Jammets".

The coveted Most Outrageous Costume prize went to "Sebago's Southernmost Sinners and Saints" for the second year in a row. Honorable Mentions for Costume were awarded to Hard Rock Café's "7 Degrees of Britney", Schooner Wharf Bar's "Schooner Shaboobies", and also to "Bourbon St. Fruit Salad".

The Deepest Pockets award was a tie between newcomer Cowboy Bill's and Irish Kevin's "The Bogs", who each generously donated $6,000. Irish Kevin's was also the 2007 winner of Deepest Pockets. "Everyone was extremely generous," said Evalena Worthington, event organizer.

"It's a day of fun and hilarity in the name of charity. We are proud to have contributed an incredible amount today to these worthy local organizations!" said Evalena Worthington, co-owner of Schooner Wharf Bar.

Stay tuned for next year's Battle date. For more information, please call (305) 292-3302 or visit www.schoonerwharf.com.

Final Times:
Half Shell Raw Bar Raw Bar Rowdies 0:1:54
Bourbon St. Pub Bourbon St. Fruit Salad 0:2:05
TGIFriday's F'n Jammets 0:2:19
Irish Kevin's The Bogs 0:2:20
Rick's/Durty Harry's Rick's Rejects 0:2:25
Cowboy Bill's Cowboy Bill's 0:2:29