Schooner Wharf 8k Run "Run with the Big Dogs"
Click here for 2008 Race Results
The Annual Schooner Wharf 8K Run will be held on Saturday, June 7, 2008 at 7:30 PM. Run this 8K Race Through Old Town Key West and the scenic waterfront of Trumbo Point Naval Base. Registration fee will be $20 and the first 150 entrants will receive a specially designed T-shirt by local artist.

Custom-made awards will be given to First Place Overall Male & Female, to First Place Overall Male & Female Masters, and First and Second Place Male and Female and in each age division. Divisions are: 14 and Under, 15-19, 20-24, 25-29, 30-34, 35-39, 40-44, 45-49, 50-54, 55-59, 60-64, and 65-69, 70-74 & 75+ PLUS. Many prize giveaways and Special Prizes
will be given to the Youngest Winners!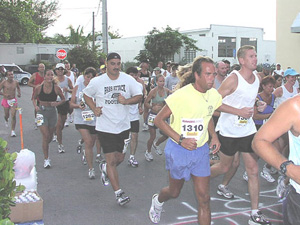 Entry forms can be picked up at Schooner Wharf Bar and local fitness centers. Schooner Wharf will have a Special Pasta Dinner for $8.00 on Friday, June 6 starting at 5 PM. Runners and Guests are all welcome. The Registration Booth will be open at Schooner Wharf Bar, foot of William Street, on June 1 from 5 PM till 7 PM. Race Packets can be picked up at this time. After the race, free refreshments for runners and great entertainment will start at 7:30 PM.

The course will be a flat, fast 8K (5 mile) course starting at Schooner Wharf Bar at the Historic Seaport. Enjoy the scenic waterfront and see a piece of Key West history while running through the Historic Harbor. Proceeds will benefit the Key West High School Track & Field Programs. For information, call 305-296-7182.

Sponsored by: The Schooner Wharf Bar, BW Promotions, Key West Southernmost Runners, Pepsi Cola, and Prizes from many great Key West establishments.

MEDIA: CONTACT Barbara K. Wright AT 305/296-7182 FOR MORE INFORMATION.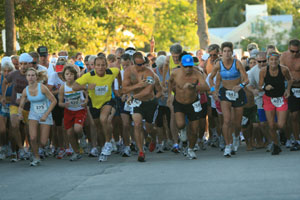 The 10th Annual Schooner Wharf Bar/BW Promotions 8k Run was held Sat. night June 7, 2008, great conditions and 145 participants with lots of first time visitors to Key West. Barbara Wright Event Founder and Coordinator with Schooner Wharf Bar and the Key West Southernmost Runners put on this unique 5 mile run through the historic seaport and the Coast Guard and Navy Base. Sponsored by Schooner Wharf Bar, BW Promotions, & Special Events,Pepsi Cola, Samuel Adams , Key West Southernmost Runners, Key West Orthopedics, Westin Resort, Cypress House, Croissants de France and the Waterfront Market.
Schooner Wharf 8K Run
Saturday, 6/7/2008 7:30 PM
Key West, Florida

Overall Results
Male Runner
1 Jason Patchett-Gillis Key West 29:29
2 Zack Harden Key West 31:14
Male Master Runner
1 Roy Payne Sugarloaf Key 32:47
Male Military Runner
1 Stephen Key Williamsburg, VA 37:49
Female Runner
1 Kasey Kimballo Eureka, MO 31:43
2 Joanna McCoy Tavernier 31:46
Female Master Runner
1 Laure Grube Marathon 34:28
Female Military Runner
1 Sarah Escott Key West 40:35

Age Group Results
Female Runner
14 & under
1 Priscilla Welzien Sugarloaf Key 39:02; 2 Emma Fehlig Key West 43:36; 3 Jane Welzien Sugarloaf Key 43:42
15-19
1 Julianne Welzien Sugarloaf Key 40:38; 2 Georgia Welzien Sugarloaf Key 44:13; 3 Jayci Hall Key West 48:55
20-24
1 Abigail White Key West 38:08; 2 Jamie O'Hern Big Pine Key 38:37; 3 Melissa Kimball Eureka MO 46:22; 4 Lindsey Haga Peoria AZ 46:42; 5 Serra Jullia Ali Jupiter 50:38; 6 Grace Nolan Valrico 54:55
25-29
1 Katherine McManmon Charlestown MA 40:18; 2 Natalia Duke Key West 42:53; 3 Suzanne McManmon New York NY 43:13; 4 Laurie Burket St. Petersburg 43:38; 5 Bonnie Ripin Key West 45:35; 6 Elizabeth Harrison Key West 46:41; 7 Chrissy Lewis Key West 47:32; 8 Liz Lochmann Eureka MO 48:48; 9 Maria Helena MacEdo Miami 1:04:15
30-34
1 Rachel Baillargeon Cudjoe Key 38:44; 2 Tracy McDonald Big Pine Key 39:14; 3 Ruby Manchester Key West 45:57; 4 Natosha K Monroe Arlington TX 46:56; 5 Rachel Calderwood Summerland Key 48:26; 6 Cherisse Grandcourt Key West 50:31; 7 Jesse Vandervoort Grassy Key 52:45; 8 Kelly Pollack Key West 1:05:48; 9 Jessi Digennaro Marathon 1:09:20; 10 Laura Wright Sugarloaf Key 1:09:21
35-39
1 Jill Haughey Key West 36:09; 2 Gwen Esbenson Key West 41:09; 3 Angie Cooper Sugarloaf Key 41:44; 4 Amy Whyte-White Ramrod Key 42:18; 5 Katie Leigh Key West 45:26; 6 Kimberly Banning Sugarloaf Key 47:23; 7 Christine Godlewski Big Pine Key 48:25; 8 Michaele Meadows Key West 58:10; 9 Gloriann Edvardsen Pompano Beach 1:00:19; 10 Maria Wilson Key West 1:01:12
40-44
1 Missy Kujawa Palm Harbor 40:50; 2 Susan Kochan Key West 41:34; 3 Catherine Kimball Eureka MO 48:49; 4 Kathleen Steban Medford NY 48:59; 5 Taz Davis Key West 50:27; 6 Dorothy Daly Marlton NJ 57:31; 7 Seana Cameron Key West 1:05:47
45-49
1 Cindy Vincent Key West 40:23; 2 Robin Bentley Lehigh Acres 42:52; 3 Susan Daniels Clearwater 46:48; 4 Tracy Channing Royal Palm Beach 49:24; 5 Cindy McVeigh Key West 49:59; 6 Penny Carlisle Brown Stuart 1:02:40
50-54
1 Joy Verrusio Miramar 39:53; 2 Sheree Ganske Cudjoe Key 40:02; 3 Laurie Hickman Palm Beach Gardens 47:45; 4 Sagette Gilbert Key Colony Beach 47:51; 5 Cathy Moore Kingwood TX 49:39; 6 Linda Kruszka Big Pine Key 50:03; 7 Jill Baxter Lake Worth 52:20; 8 Lynne Buehrer Wilton Manors 1:03:10; 9 Leona Nolan Valrico 1:04:38; 10 Marlene Markey Wilton Manors 1:06:59
55-59
1 Mira Bedo Tavernier 40:33; 2 Ada Duffy Miami 47:39; 3 Beverly Cannon Fort Lauderdale 53:59; 4 Marybeth Hassan Mechanicsburg PA 58:17; 5 Rita Goldfine Fort Lauderdale 1:04:59
60-64
1 Pat Kersey Big Pine Key 45:27; 2 Vicki Zimmerman Culver Lehigh Acres 47:00
65-69
1 Susie Moncrief Hernando 54:17

Male Runner
14 & under
1 Brandon M Mercado West Palm Beach 35:25; 2 Ramiro Melendez West Palm Beach 36:03; 3 Billy Welzien Sugarloaf Key 36:10
15-19
1 Jeffery Wright Big Pine Key 40:01; 2 Kieran Campbell Key West 43:37
20-24
1 John Dollerschell Leawood KS 33:27; 2 Bucky Wile Big Pine Key 37:35; 3 Danny Nolan Valrico 38:00; 4 Christopher Bierman Norwood PA 39:39; 5 Joel Bezek Lockport NY 40:51
25-29
1 Brian Thomas Greenacres 32:08; 2 Stephen Key Williamsburg VA 34:26; 3 Christopher Betz Key West 36:32; 4 Nathaniel Smith Miami 39:11; 5 Jeff Emmett Key West 49:18
30-34
1 Julio Castop Key West 34:11; 2 Dave Claing Key West 34:19; 3 Chrisopher Shultz Key West 41:05; 4 Jason Dugan Key West 44:57; 5 Roman Rudzik Key West 45:37; 6 Malcolm Spartichino Big Pine Key 46:38; 7 Brian Byle Valrico 59:07
35-39
1 Timothy H Faucette Key West 34:16; 2 Sassy Sassy Key West 37:42; 3 Daryl Riedel Key West 39:22; 4 Andrew Olday Key West 39:26; 5 Kevin White Ramrod Key 40:15; 6 Gene Mitchell Pensacola 42:15; 7 Gennaro Sorrentino Miami 45:04; 8 Joshua Todd Berube Key West 46:06; 9 Norm Linseman Big Pine Key 49:38; 10 Richard Vaandervoort Grassy Key 49:40
40-44
1 Murilo Pereira Miami 35:21; 2 Tom Yeager Palm Beach Gardens 36:41; 3 Greg Kujawa Palm Harbor 36:45; 4 John Michael Jones Key West 40:30; 5 Michael Andersen Key West 41:11; 6 Henry Hidy Sugarloaf Key 45:12; 7 Robert Barrios Key West 47:07; 8 Joe Daly Marlton NJ 50:55
45-49
1 Drew Hamernik Naples 39:25; 2 John Moore Kingwood TX 40:43; 3 Colby Fisher Key West 44:21; 4 Gabriel Santos Key West 46:40; 5 Scott Smith Key West 50:07
50-54
1 Mark Kimball Eureka MO 35:56; 2 Doug Bender Key West 38:54; 3 Edward Healy Key West 40:12; 4 Larry Wright Big Pine Key 40:28; 5 Wally Biegler West Palm Beach 41:15; 6 James Mill Key West 41:46; 7 Evan Snitkoff Big Pine Key 42:48; 8 Rick Smith Land O Lakes 47:33; 9 Dan Nolan Valrico 54:58
55-59
1 Hugo Cortez Key Largo 35:07; 2 Charles Phinizy Key Colony Beach 37:39; 3 Don Vertregt Big Pine Key 42:09; 4 Peter Bombaro Key West 42:25; 5 Thomas Ravenel Fort Lauderdale 47:54; 6 Jim Hassan Mechanicsburg PA 57:04
60-64
1 Peter Troy Levittown NY 49:00; 2 Michael L. Culver Lehigh Acres 49:44; 3 Chester H Kalb II Key West 52:43
65-69
1 Wayne Landrum Big Pine Key 44:09
70 & over
1 Richard Clements Key West 59:25
Military
2 Brandon Morsesian Fort Eustis VA 36:49; 3 Jason Pavlica Key West 37:01; 4 Hyrum Prince Williamsburg VA 37:51; 5 Michael Tomes Key West 45:42; 6 Edward Cavazos Key West 58:38; 7 Joseph McLeod Key West 58:41; 8 William Hillyer Key Colony Beach 58:44