Leather and Lace, Chrome and Steel for Bike Week
2009 Poker Run Fun at Schooner Wharf Bar Results & Pictures
On Friday Schooner Wharf hosted a Welcome Party and Hog Roast as part of the poker run festivities, with special guest appearances by Lorenzo Lamas of the "Renegade" T.V. series and Edie Trotta of the "Biker Build Off" series on the Discovery Channel. The celebrities signed autographs, posed for photos, mingled with the crowd and enjoyed a magic show at Schooner's up close and personal Magic Bar.

Revving engines and enthusiastic applause were the back drop to the 2009 Schooner Wharf's Paradise Tattoo Contest and Betty Bangs Bikini Fashion Show held on Saturday. Visitors and locals sporting tattoos competed for prizes and trophies in nine different categories including Best In Show. A bevy of beauties graced the stage in hot, creative, hand made swim suits to a very appreciative audience in the annual fashion show.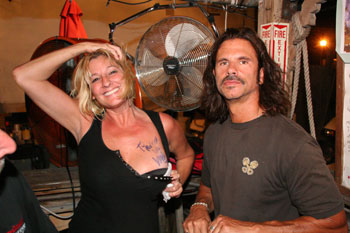 Missy with Lorenzo's autograph!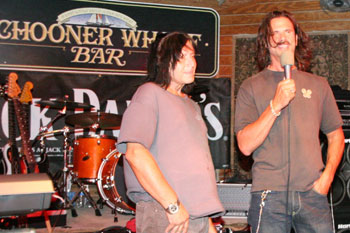 Eddie Trotta & Lorenzo Lamas on stage at the Schooner Wharf Bar Welcome Party.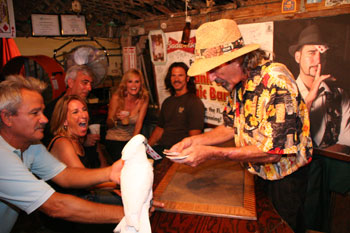 Lorenzo Lamas with old and new friends enjoying the magic of Schooner's Magic Bar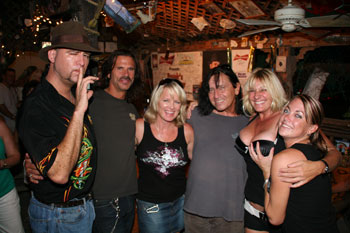 Frank Everhart, Lorenzo Lamas, Evalena Worthington, Eddie Trotta, Missy Sanel and Marissa Ludwig having fun Friday at SWB's Welcome Party and Hog Roast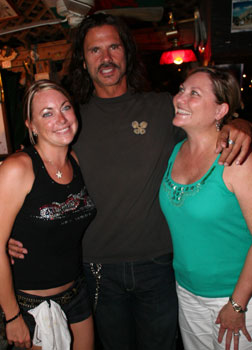 Marissa Ludwig, Lorenzo Lamas and one of Lorenzo's fans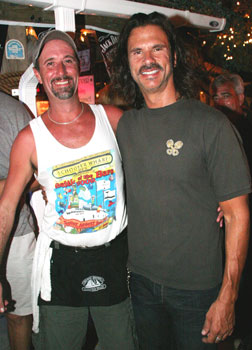 Schooner Wharf Server and Bartender John DeValt with Lorenzo Lamas