2010 Tree Trimming Party Results
'Tis the Season at Schooner Wharf!
Schooner Wharf Bar's Christmas tree is now decorated in full holiday charm, with ornaments hung on Sunday during its annual Tree Trimming party. The holiday spirit was high as locals and visitors gathered 'round with warm Swedish glögg, hot apple jack or eggnog and contributed creative homemade or nautical pieces.
Ornament Contest Results:
Most Original: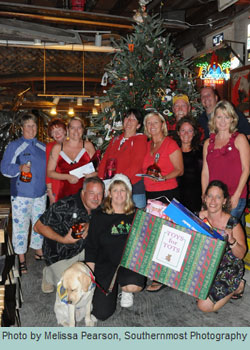 Becky Rios, with her hand-crocheted stuffed dogs adapted from Schooner Wharf's original dogs painting
2nd place: Capt. Kelly George with his Christmas present featuring Lighted Boat Parade photos;
3rd place: Bill Bennett won for making 12 Swedish wreath weavings
Most Nautical:
First place went to Rebecca Larivee for her handmade sea urchin snowman
2nd place: local artist Catherine Daughty won for her water painting
3rd place: Barbara Torino took third with a Christmas in the Keys decorated shell
Most Popular:
the crowd chose a handmade Santa sleigh/sailboat made by Brenda Flynn
2nd place: Teresa Ieva took second with her starfish with Santa and life vest
3rd: a handmade pine cone Christmas tree by Steve Eierman
Santa's Workshop was busy with local authors and artists selling autographed works.
The Toys for Tots box was filled to the rim, and will be delivered by Schooner Wharf's Breakfast Club to the kids.