Fantasy Celebration
2011 Theme is "Aquatic Afrolic"
October 21 - October 30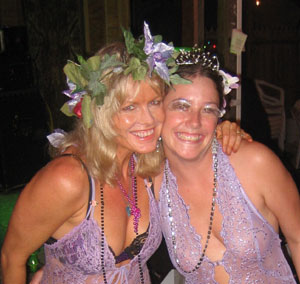 Schooner Wharf is feelin' groovy for a Fantasy Celebration

Everyone's favorite open-air bar is going back to the days of Peace, Love -- and Aquatic Afrolic Woodstock style, for this year's Fantasy celebration.

Schooner Wharf Bar is being transformed into "Wharfstock", reliving the Summer of Love and recreating the concert that changed the world.

Get groovy with tie-dye, flower power, aquatic creatures, psychedelic colors, and black lights, for your fantasy frolic this year.

Expect customers and crew to get even deeper into the groove – and into the paint – during the Aquatic Afrolic Body-Painting Contest at 10 p.m. Wednesday, Oct 26.

Paints and brushes will be provided. Just bring a friend to paint you and your creativity, while enjoying live music, cold drinks and the humor of emcee Frank Everhart. Winners will receive cash prizes and gift certificates.

You'll be inspired by the psychedelic patterns and aquatic sea creatures projected in the bar. Silhouettes of Woodstock greats will line the bar, while their music drifts from the stage all week.

Gary Hempsey and the Hippie Band will ensure that the tunes never stop, as they reach back in time for favorites from the Grateful Dead, Crosby, Stills and Nash and other Woodstock legends.

On Friday from 5:00 to 8:30 p.m., local favorites Raven Cooper and Mike Gillis team up on stage for more Woodstock memories. The talented duo will challenge the crowd to "Name that Woodstock Tune" as they play the opening notes. Prizes will be awarded to those knowing the song and/or artist.

Saturday night brings the annual Walk-on Costume Contest after the parade. Prizes will be given to the Most Aquatic Dude and Afrolic Woman, as well as other costume categories. All costumes are eligible.

The late-night entertainment on Thursday, Friday and Saturday brings Entrain to the stage all the way from Martha's Vineyard. The crowd favorite, 6-piece band centers around the infectious drums, but works its magic with a sax, keyboard, trombone, bass and guitar. The band zips along with a groove so intense, everyone has to dance.

Turn on, tune in and drop in for top notch music, aquatic psychedelic décor, cold drinks and groovy times during our Fantasy celebration. For more info: Call 305-292-3302.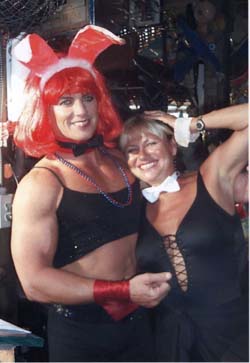 Two of our Bartenders - Chris & Vicky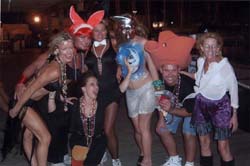 Schooner Wharf Bar Crew
Evalena, Chris, Vicky, Jamie, Liz, Kelly, & one of our customers