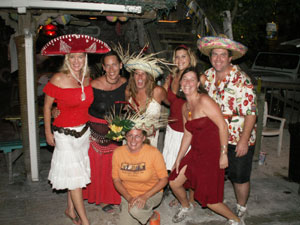 It's Fiesta Time! Schooner Wharf's Annual Cinco de Mayo Celebration is on Saturday, May 5th (obviously).
For a "caliente" night, join in the Hot Taco Eating Contest -- a timed competition to see who can eat three Schooner Wharf Tacos, down a shot of Cuervo Tequila, eat a hot jalapeño, and finish an icy cold Corona in the least amount of time.

Last year a "Hot Time" was had in the Male Taco Eating Competition by first place winner Daniel Wieczorek, who challenges all taco eaters! Jessica Johnson showed her skills as the Female Taco Eating Champion. Hot Pepper Eating Contest winner local Ronnie Russo proved to be "Hot Stuff" for the third year in a row.
D.J. Señor Bill Hoebee will offer color commentary of the contest during a live remote broadcast on SUN 99.5.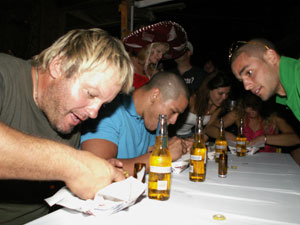 Or you can win a prize for the best Mexican hat while sipping margaritas and listening to hot Latino music.
Dance to the sizzling sounds of South of the Border Band featuring Dayami. Come ready to dance, dance, dance into the steamy Cinco de Mayo night!

Peppers, prizes, giveaways, plus special Corona and Cuervo drink prices & margaritas add up to CINCO de MAYO at Schooner Wharf Bar.
For more information, please call Schooner Wharf at (305) 292-3302.