Schooner Wharf Celebrates 15 years of Magic!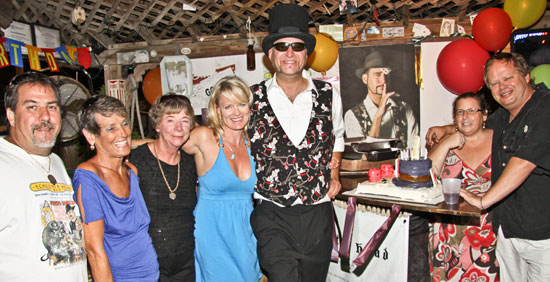 Wayne Kroeling, Ruth Cook, Lee Everhart, Evalena Worthington, Frank Everhart, Connie Smoot and Bill Hoebee celebrating at last year's Anniversary and Birthday Party for Frank.

Schooner Wharf Bar is inviting the island to come celebrate 15 years of Frank's Magic Bar with Frank Everhart and his collection of phenomenal performing friends. On Sunday, May 15th at 7pm the festivities will begin and last until who knows when!

As always Frank has planned a variety of shows from close up at the magic bar to silly antics on stage. There will be special appearances by our very own Captain Bill Grosscup, famed sports Magic Legend, Tim Glancey, The incomparable Greg Wythe, TGI Friday's Magic sensation, Alan Gold, and a fun loving, highly talented bunch of other magicians that will be on hand to help Frank Everhart and Schooner Wharf Bar celebrate 14 years of mystery and fun under the Schooner Wharf Sky!


Frank's 11th Anniversary

Magic Frank's Birthday - Captain Bill Grosscup, Lee & Frank Everhart and William Burt

A special performance of comedy and magic by internationally acclaimed Rich Lessig will light up the room with wonderment! Rich makes any magical event memorable with his unique personality and his passion for illusion.

And… of course Frank will be attending, sharing his special brand of magic that has captivated the people of our island at his magic bar at the World Famous Schooner Wharf Bar all these years.
| | |
| --- | --- |
| For those not familiar with the story, Captain Bill will recount the tail of how bar magic was born in America, starting with Frank's father, Frank Everhart Sr., and his legacy. Frank Sr. pioneered Bar Magic at the World Renowned Ivanhoe Restaurant and Theater in the Chicago of the 1940's. Frank Sr. performed for Lyndon B. Johnson, he was the magician on "The Bozo Show" WGN Chicago for ten years, and he ran his one night stand at the Ivanhoe into an incredible 21-year career! Captain Bill also plans on telling the amusing story of how the magic bar really got started at the world famous Schooner Wharf Bar. If you weren't there to see it happen, you won't believe how it happened! | |

Frank's 12th Anniversary

Randy Quaid, Clarence Clements, Al Jardin, of the Beach Boys, Smashing Pumpkins, John Walsh, & Jerry Jeff Walker are just a few of the celebrities who have frequented Schooner Wharf and enjoyed close-up slight of hand, and have been just as entertained as the local following.

The Doerfels will be taking the stage from 7:00 till midnight. Their country, bluegrass, contemporary rock, blues and original tunes create a one of a kind dynamic energy you don't want to miss.
Join us for an evening of fun, food, drinks, laughs, music, & of course magic! Come by to wish Happy 14th Anniversary and Happy Birthday to Frank, and we'll see you at the show!