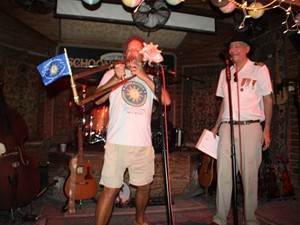 Schooner Wharf Bar wants to harness it all for the traditional start of the Conch Republic Independence Celebration at the annual Conch Shell Blowing Contest on Friday, April 20th at 7 p.m.
Locals, visitors and any other blowhard can compete for prizes awarded for the longest, loudest and most musical trumpet of Key West's namesake mollusk.

Six winners will take home gifts from Cruzan Rum and Landshark Lager, water adventures compliments of Sebago Watersports, Sunset Watersports, Spirit of Independence, America 2.0 and other treasures courtesy of Schooner Wharf Bar.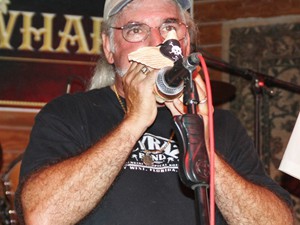 The party explodes with Cayo Ritmo playing from 7pm till midnight. "Cayo Ritmo" means in Spanish Cayo = Key or Island, or fallen, Ritmo = Rhythm. The Band plays Island or Key Rhythms, dance rhythms of the Caribbean, such as: Reggae, Calypso, Soca, Cha-Cha, Reggae-ton, as well as American dance rhythms: rock, R&B, funk and soul. Cayo Ritmo plays high-energy dance sets that are sure to get bodies moving, shaking and winding. The band is usually presented as a rock quartet Drums, Bass and Electric Guitar and featuring Steel Pan with everyone singing. Exciting elements include the improvisational inter-play between the steel pan and guitar, and latin percussion jam sections. Definitely bring your dancing shoes…

When you're finished blowing and listening to Conchs, head over to the Schooner Wharf Galley for conch fritters and conch chowder and other tasty fare.