Celebrating 16 Years of Close Up Magic at Schooner Wharf Bar on May 15th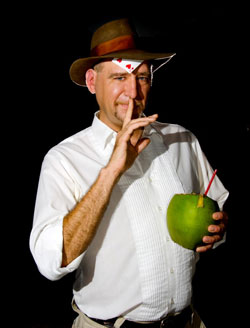 On Wednesday May 15th, Schooner Wharf's Magic Bar with Frank Everhart Jr. turns 16 (and it's Frank's birthday too!) For those last 15 years Frank has been delighting audiences with his own unique special brand of magic.

Starting at 7:00 p.m. there will be live music, stage magic, food, drinks, fun and of course Frank's Magic Bar will be open, with local prestidigitators sharing in the fun as they ply their various magical arts.

The evening will be hosted by Key West's very own Bill Hoebee and Captain Bill Grosscup. Lighting up the stage for your musical entertainment, is the Raven Cooper Band. Raven is a talented guitar player and singer, with her amazing range of vocal styles. Backed by some of Key West's favorite musicians, the show is an eclectic mix of jazz, country, blues, and more - with something for everyone.
Frank Everhart, Jr., a second generation sleight of hand artist, inherited his trade from his father the legendary Frank Everhart, Sr., famous for such card tricks as Sam the Bellhop and the Red Hot Mama. Frank Sr. had the original Frank's Magic Bar for 21 years in at the famed Ivanhoe Theater in Chicago. Frank the younger is proud to carry on the family's unique brand of magic at Schooner Wharf nightly, Wednesday through Sunday.
Special stage magic and illusion shows will be performed by John Johnson. Johnson is also a second generation family member trained in the comedy bar magic arts by Frank's dad.

Come down to Schooner Wharf for a night filled with magic and be dazzled this Wednesday starting at 7:00 p.m. There will be all kinds of amazement for everyone to share. Come raise your glass to Frank's 16th anniversary. See you at the show!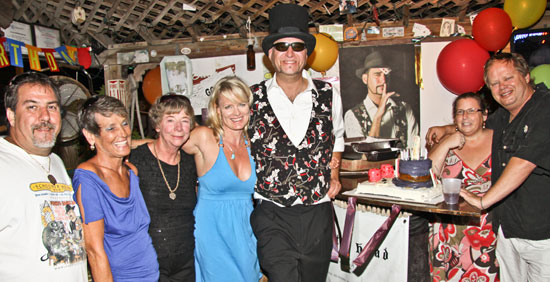 Wayne Kroeling, Ruth Cook, Lee Everhart, Evalena Worthington, Frank Everhart, Connie Smoot and Bill Hoebee celebrating 15th Anniversary and Birthday Party for Frank.