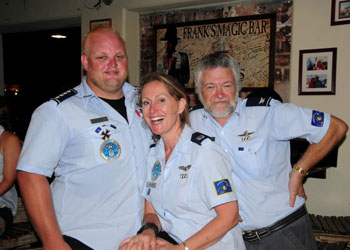 The Conch Republic will be under attack, now is the time for all good men and women to come to the aid of their island!

Join your Conch Republic comrades-in-arms at Schooner Wharf Bar for the annual Conch Republic Naval Parade and Great Battle Surrender Ceremony, Friday, April 27th.

The U.S. Border Patrol will infiltrate the Conch Republic, and all able bodies are commanded to load up on ammunition (wet Cuban bread) and stand their ground against the advancing troops in Key West Harbor.

Let freedom ring with the bread you fling!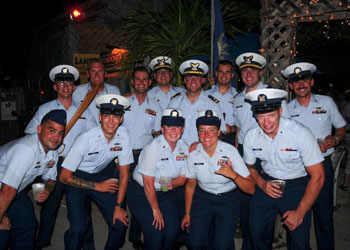 Suit up in your battle fatigues (foul weather gear) and prepare for the Coast Guard's surrender to the Conch Republic.

Then retrieve your wounded comrades and make your war-weary way to Schooner Wharf Bar for the Victory Party and Surrender Ceremony at 9 p.m.

Live music from 7 pm till midnight with the popular Jeff Clark Band. This dynamic group brings funk and soul to the Schooner Wharf Bar to help celebrate Conch Republic Independence. Joined by Hiram G, Kenny Fradley on horns, and other special guests, their groovy island sound includes original tunes and covers. This band definitely gets the dance floor alive!

Captains and crew, there is a MANDATORY meeting for all participating vessels on the upper deck of Schooner Wharf Bar on Tuesday, April 24th at 9 p.m.
Schooner Wharf Bar is the Official Headquarters of the Conch Republic Independence Celebration. For more information about the Victory Party and Surrender Ceremony call (305) 292-9520.