NO PLANE ON SUNDAY.............
SO....Spend the day at Schooner Wharf Bar
November 3rd
Parrot Heads are familiar with the Jimmy Buffett song that tells listeners that there is "no plane on Sunday"….so spend your Sunday sipping tropical cocktails, while enjoying your own "Cheeseburger in Paradise," on the waterfront at Schooner Wharf Bar!

Find that lost shaker of salt, squeeze a lime into a margarita or Landshark beer, and enjoy the "minds you meet," November 3rd, from 7-midnight at Schooner Wharf.

The Schooner Wharf No Plane on Sunday Party features the trop-rock island songs of Johnny Russler and The Beach Bum Band, with lots of special guests, who play sweet sounds of Caribbean Rock, Reggae and Calypso. Also catch them performing here on Friday night, November 1st from 7:00-midnight.

And on Thursday, it's the Halloween Party Jam with the Phin Addicts and special guests Jerry Diaz and Steve Hopper, from 6:45-11:30. On Saturday night, catch more Trop-Rock sounds from Young Rebel Goombas, from 6:45-11:45.

"Down to the Banana Republics, down to the tropical sun, go the expatriated Americans hoping to find some fun." You'll always find it at Schooner Wharf!

Enjoy more great Trop Rock sounds all week – see our full music schedule. For more information, call 305-292-9520. Visit Schoonerwharf.com or join us on Facebook.


"Down to the Banana Republics, down to the tropical sun, go the expatriated Americans hoping to find some fun."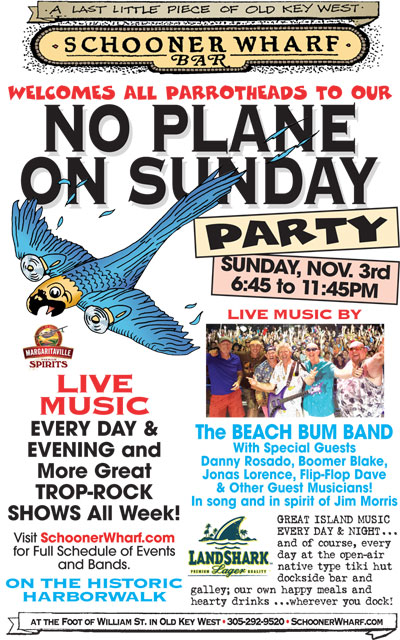 2019 Flyer