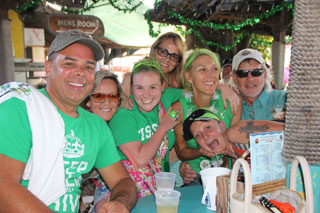 There are two days to celebrate the "wearing o' the green" at Schooner Wharf Bar while enjoying Black and Tans, green beer and schnapps, and of course, some great Irish Whiskey. Enjoy traditional corned beef and cabbage prepared by the Schooner galley. There is a lot of fun to be had at our popular waterfront pub!

The Schooner Wharf stage will be clickin' their heels all day. The talented and charismatic Raven Cooper will start the festivities, entertaining from noon till 5:00 pm.

From 6:30 till 11:00 pm dance a jig to the Konched Out Trio. They will be playing Irish tunes, reels, folk n' roll, Celtic rock and sing-alongs with fiddle and guitar and percussion. They mix the best folkish flavors into an experience served best in whiskey glasses to commemorate Saint Patrick himself!

On Saturday, March 20, everyone will extend their "Irish" heritage for the 43rd Annual St. Paddy's Day Bar Stroll, which just like everything else, always ends up here at Schooner Wharf Bar.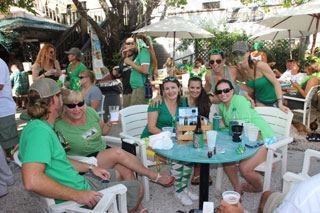 Guaranteed to "Get your Irish up!"

Come celebrate St. Patrick's Day -- find your lucky charm, friends and fun at Schooner Wharf Bar!
Get your Irish up! Schooner Wharf Bar is "Going Green," See you there!!!