Schooner Wharf "Rigging" in the New Year!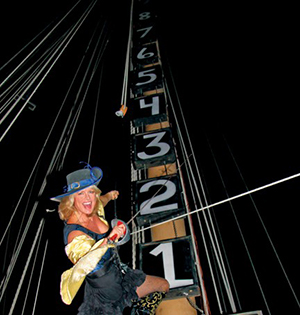 Join your friends and make new ones at the Schooner Wharf Bar New Year's Eve Celebration.

The popular waterfront watering hole once again will present its unique and original nautical New Year's Eve tradition with "The Lowering of the Pirate Wench" from the towering mast of the tall ship America 2.0 docked in front of the bar in the Key West Bight.

Everyone's favorite pirate wench and owner of Schooner Wharf Bar, Evalena Worthington, will descend dramatically against large, illuminated countdown numbers. The stroke of midnight will signal the start of 2024 with cannon fire and the jubilant sound of horns and noisemakers from the crowd against a backdrop of the ship's crew dressed as pirates.

Schooner Wharf has complimentary hats, party favors and horns for everyone to feel festive while enjoying holiday drink specials and live music throughout the day and night. The bash was rated by AOL as the No. 2 New Year's party in the nation - second only to the Times Square madness in New York City.

The Schooner Wharf event made the Huffington Post's 13 Amazing New Year's 2014 Photos From Around the World. Rob O'Neal's photo of Evalena at Schooner Wharf in Key West was the only photo chosen from this continent!

Great live music with local and national acts from 11:30 am till the early hours of 2024!

As the midnight hour approaches, a popular local DJ will play party favorites in anticipation of the Auld Lang Syne. Hoist your drink - and your eyes - toward the top of the towering mast as the countdown begins and another year ends.

But the end of the year isn't the end of the party - the Schooner New Year rocks well into 2024. All this and No Cover Charge.

Have a safe and exciting New Year, from your friends at Schooner Wharf Bar, "A Last Little Piece of Old Key West."

For more information, please call Schooner Wharf at (305)-292-9520, visit Schoonerwharf.com or check us out on Facebook.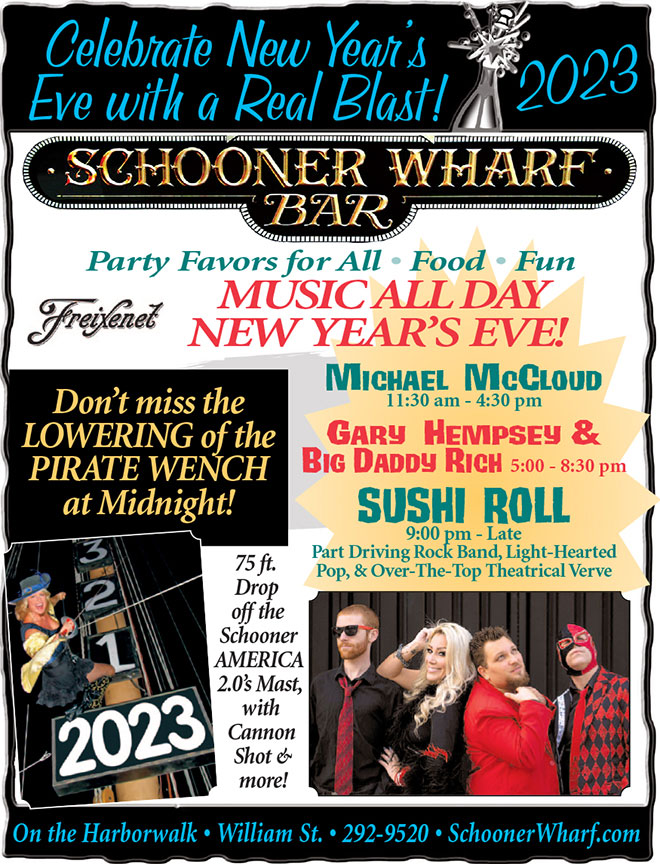 2022 Flyer - 2023 Flyer Coming Soon


2018 New Year's Lowering of the Pirate Wench | 2017 New Year's "Lowering of the Pirate Wench" | 2016 New Year's "Lowering of the Pirate Wench" | Rigging in 2015 | Rigging in 2014


New Year's Eve Madness @ Schooner Wharf Bar
Welcome to Schooner Wharfs' original tradition the Lowering of the Pirate Wench
No Reservations Required

Rated the 2nd most fun thing to do by AOL after Times Square



Find Schooner Wharf
on Facebook
SCHOONER WHARF BAR:
202 William Street, Key West, Florida 33040 - Ph: (305) 292-9520 - Email:

[email protected]