2005 SCHOONER WHARF BAR & GALLEY/CAPTAIN MORGAN LIGHTED BOAT PARADE WINNERS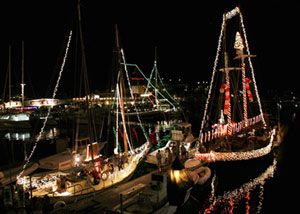 Shot of Boat Entries in Harbor
This year places in the 15th Annual Schooner Wharf Bar/Captain Morgan Rum Lighted Boat Parade were determined within tenths of points of each other. It was one of the most competitive & spectacular parades we've ever had. Great Job to all our creative mariners and their holiday spirit!!!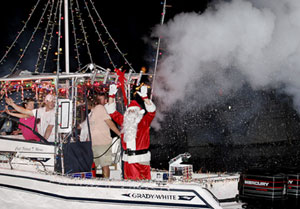 Fish Pain making snow for Santa
12. Fish Pain Captain Patrick Moran
The Magic of Christmas – Santa, and his Elf popping out of a smoking chimney
11. Schooner Island Belle Captain Carl & Kate Peachy
Chestnut's Roasting on an Open Fire – Hand painted fireplace & Lots of lights
10. Lindsey R Captain JJ Geraway
Santa's Helpers Break Away for a Key West Holiday – A flying dolphin leading the way; Red, white, blue & green lights
9. Island Time Captain Barney Head
Christmas on Island Time – Palm trees and a red eyed reindeer from the Breakfast Club
8. USCG 047316 Captain Jon Moist
Southernmost North Pole – Big Brothers & Big Sisters aboard the vessel. Captain Jon is leaving for overseas deployment. Support our Troops. Beautiful Christmas tree of lights & a great reindeer in the bow. Candy canes looked great
7. Sunday Funday Captain Alan Case
Christmas in Motion – Great harbour maneuvers! Loved the decorated motor and the moving loops along with the white, green & red lights.
6. Pro Kat Captain Shannon Steele
Monster Sailfish – We thought she was the "Old Lady and the Sea!" Beautiful vision of a tag & release
5. Key Limey Captain Simon Stafford
One Human Family - The Stafford Family, Simon, Mimi & son Dylan are 11 year veterans of our holiday parade. We loved the palm trees and "The One Human Family" The Key Limey is a working lobster and stone crab vessel.
4. Ranger Captain Travis Scott
Tow Boat US – Red & Blue people towing 2 other vessels. Tow Boat US operated by the Admiral of the Conch Republic Reef Perkins operates salvage service 24 hours 7 days a week
3. Miss Quin Key Captain Del & Marsh Ashburn
Close Encounters of the Key West Kind – Space ship with aliens encountering Santa Claus, the flashing space ship and swinging movements and lights was a spectacular sight.
2. The Compass Rose Captain Ken Bartig
Candy Canes, Peppermint Sticks and Christmas Cheer – The Bartig family dedicates their entry to the people of Key West who have lost so much this year, to Captain Lane Briggs and all the other salts who have passed this year, and to all those vessels lost and no longer able to sail the waters of Key West. A Beautiful Holiday Sight!!!
1. Schooner Western Union - Captain Lenn Verreau
Pirate Santa with Our Famous Lighted Dancing Man and the "lit" Captain. SPECTACULAR; Loved the red eyed pirate, he must be a member of the Breakfast Club too!!!
A big thank you boaters from the community,
Captain Morgan Rum & Schooner Wharf Bar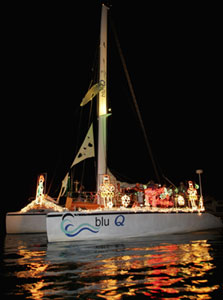 Blue Q - 2005 Entry