19TH ANNUAL SCHOONER WHARF MINIMAL REGATTA
Calling All Boat Boat Builders and Would-Be Ship Wrights
Click here for 2010 Winners of the Minimal Regatta

click here for registration form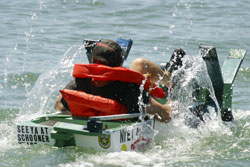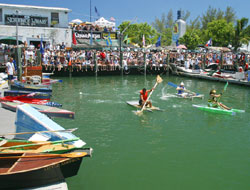 Supplies are limited, but the creativity is endless at Schooner Wharf Bar on Sunday, May 30 for the 19th Annual Schooner Wharf Minimal Regatta.

Each 6 member team must build a boat seaworthy enough to stay afloat for the entire race course in the Key West Bight in front of Schooner Wharf. The catch---the boats are made of plywood, fasteners, duct tape, and 2' x 4's.
Minimal Regatta Construction Rules:
1. One sheet of 4' x 8' x 1/4" plywood
2. Two 2"x 4" 8'
3. One pound of fasteners
4. One roll of 2" x 60 yard duct tape
5. No caulking or adhesives - Epoxy paint is permitted
6. Painting of boats is optional
Construction kits can be bought at co-sponsor Manley de Boer on Eaton Street at a "minimal" price.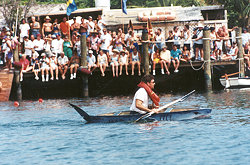 There are two categories of "Minimal Vessels" -- Kayak/Canoe Design & Open Design. Competitors will win prizes in each design group for Fastest - 1st & 2nd Place. Other prizes are awarded for the Most Creative Design - 1st & 2nd Place, Best Paint Job, Best Costumed Entry, Sportsmanship Award, and Sinker Award.

Whether you're a participant or a spectator, it's a memorable Memorial Day weekend with Captain Morgan & Corona drink specials, live music with Michael McCloud & Friends from noon till 6 p.m. and Calypso Latin Party from 7 till midnight. Enjoy a great Memorial Day BBQ and lots of laughs at the craziest regatta you've ever seen.
Pick up your entry form at Schooner Wharf Bar today!