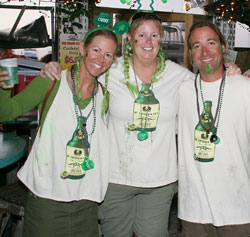 There are two days to celebrate the "wearing o' the green" at Schooner Wharf Bar while enjoying Black and Tans, green beer and schnapps, and of course some great Irish Whisky. Enjoy traditional corned beef and cabbage prepared by the Schooner galley. There is a lot of fun to be had at this popular waterfront pub.

On Saturday, March 15, everyone will extend their "Irish" heritage for the 36th annual St. Patty's Day Bar Stroll on which just like everything else, always ends up at Schooner Wharf Bar.

The Schooner Wharf stage will be hoppin' all day: Michael McCloud, accompanied by "Professor" Pete Peterson and Captain Carl "Guitar" Peachy will entertain from 10:00 am to 3:00 p.m. Then the upbeat combo Skraeling is back with their catchy fusion of Celtic rhythms, country, and rock, and will perform from 3:00 – 7:00 pm. Taking us into the late night will be The Raven Cooper Band playing from 7:00 pm to midnight.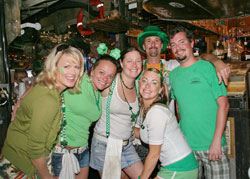 But the party doesn't stop then. Join us St. Patrick's Day Monday, March 17th at Schooner Wharf Bar for another round of green beer and corned beef and cabbage.

Raven Cooper will be back from noon till 5:00 p.m. The music continues into the night with Terry Whetmore's Irish Brigade and The Lucky Shamrocks joining together for a 6-piece Irish/Celtic jam session from 7:00 pm – Midnight. Fiddle, guitar, banjo, mandolin, bagpipe, Uillean pipe, and Bowdhran drum are guaranteed to "Get your Irish up!"

Come celebrate St. Patrick's Day; find your lucky charm, friends and fun at Schooner Wharf Bar. See you here!

For more information, please call (305) 292-9520 or visit Schoonerwharf.com or Facebook.