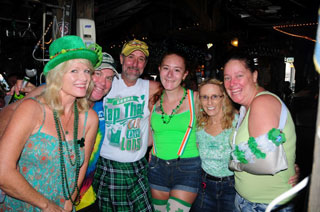 Enjoy St. Patrick's Day Saturday, March 17 on the waterfront at Schooner Wharf Bar. You'll have the fun luck o' the Irish to catch this classic waterfront watering hole, and that's no blarney! Everyone will extend their "Irish" heritage for the 40th annual St. Paddy's Day Bar Stroll on Saturday which just like everything else, always ends up at Schooner Wharf Bar.

Michael McCloud, "Professor" Pete Peterson and Dave Hoffman will start the entertainment early morning with original music and biting humor.

Malcom and the Fiddle Trio perform from 2:30 pm - 6:30 pm. playing an eclectic mix of pop rock, reggae and Americana. Their style ranges from soulful smooth to county crooning to dancehall reggae in patua dialect. They will also be entertaining with classic Irish tunes for sing- alongs featuring the fiddle! This trio has a unique and eclectic sound that is sure to entertain and get the crowd up and dancing.

Blarney Rubble, an energetic four-piece band, is here to rock your St. Patrick's Day party from 7pm - midnight! The band plays all of your favorite jigs and reels, Irish pub rock, sentimental ballads and hilarious drinking songs. They will have you dancing, singing along and feelin' the Spirit o' the Day. The band plays a wide variety of traditional Irish instruments and all four members take turns fronting the band to keep the sound fresh and exciting. Blarney Rubble features:
Molly "Flying Fingers" Flannagan on concertina, button box, whistle and vocals,

Kevin McQueen on guitar and vocals,

Mickey Tipps on bodhran and percussion and

C.J. McBeag on mandolin, Irish bouzouki, whistle and vocals.
If you like bands like Gaelic Storm, Great Big Sea, The Young Dubliners or the Clancy Brothers, or artists like Christy Moore or Tommy Makem you'll love Blarney Rubble.

And the jigs not up! Celebrate by wearing green, getting pinched and sipping Black and Tans, green beer and schnapps. Enjoy traditional corned beef and cabbage prepared by the Schooner galley. There will be a lot of fun to be had at this popular waterfront pub.
Get your Irish up! Schooner Wharf Bar is "Going Green," See you there!!!
For more information, please call (305) 292-9520 or visit Schoonerwharf.com or Facebook.