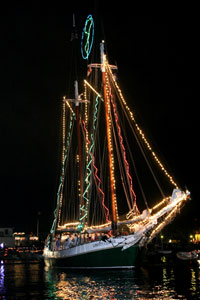 Liberty Clipper - Captain Rob James
Captains: more than $20,500 in prizes are up for grabs this year for the 12 winning places – but everyone is a winner and Cruzan Rums will have a gift for each boat. There is a $4,000 Raffle which includes Great Prizes from West Marine - Downtown and Stock Island, the Mel Fisher Family, Water Sport Adventures, Dining Gift Certificates, Schooner Wharf Bar Tabs, Bottles of Cruzan Rum and Much MORE!!!
Entry forms are now available, and the $25 registration fee will help ensure a safe parade for all. A Captains' Meeting will take place December 11th on Schooner Wharf Bar's upper deck with complimentary Yuengling beer, Cruzan Rum Punch and Schooner Galley Hors d'oeuvres.