December 9th, 2021

2021 Lighted Boat Parade Registration Form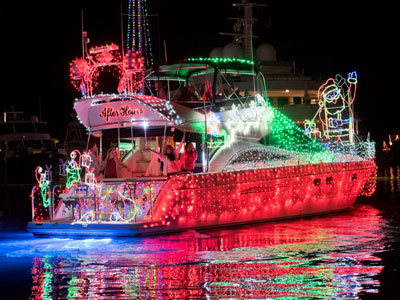 Life in Key West revolves around the water---so does Christmas! The days are getting shorter and the breeze in the air means only one thing----it's almost time for the Annual Schooner Wharf Bar & Galley Lighted Boat Parade.

The famous nautical parade is December 11th but the clock is ticking for entrants to conjure their best holiday ideas and start stringing lights on the rigging. December 9th will be the Captains Meeting.

Join the fun and enter your boat in this community marine event. Parade your vessel bedecked in beautiful lights and your festive holiday spirit. Vessels of all sizes – kayaks, dinghies, fishing vessels, sailing ships, private yachts and charter boats – are welcome.

The procession starts from the Key West Bight at the Historic Seaport and by Schooner Wharf Bar where the judges' stand with local dignitaries will be located. The route then continues along the harbor.

Captains: Great prizes up for grabs this year for the 12 winning places with a Free Raffle which includes Great Prizes from the Mel Fisher Family, Water Sport Adventures, Dining Gift Certificates, Schooner Wharf Bar Tabs, Historic Tours of America, Margaritaville Resort and Marina and much MORE!

Entry forms will be available shortly, and the $25 registration fee will help ensure a safe parade for all. A Captains' Meeting will take place December 9th on Schooner Wharf Bar's upper deck with complimentary beverages and hors d'eourves.