2019 Series 34th Annual Schooner Wharf Bar Wrecker's Cup Race Series
February 24th
No protests, no pageantry, just race with us - or against us!
Wreckers' Race 2019 Release Form and Entry Form
Ahoy Mates! It's time to clean the bottom and pile on the sails.

The 34th Annual Schooner Wharf Bar Wrecker's Cup Race Series is set for Sunday, February 24th. This all-in-fun race series recalls the tradition of the wreckers in the Key West of the 1800's.

Racers compete in different classes; Classic, Schooner, Multihull, Monohull over 40 feet, Monohull 30 – 39 feet, Monohull Under 29 feet, other categories may apply depending on entries. The Wrecker's fleet consists of 16' Hobie Cat's to a John Alden Schooner once owned by General Patton. All sailing vessels, local sailors and visiting yachtsmen are welcome to join the regatta.

1st, 2nd & 3rd place will be awarded in each division, with trophies, a Bottle of Pusser's Rum, Schooner Wharf Bar Tabs & Wrecker tee shirts as prizes.

Captains' Meeting is held Saturday, February 23rd at 7:00 p.m. in the Schooner Wharf's Sail Loft with complimentary Pusser's Rum Punch and hors d'oeuvres from the Schooner Wharf Galley.

All participating vessels will receive up to 4 BBQ dinners for captain & crew to enjoy at the Awards Party & Ceremony. The race is video taped, see yourself under sail on the big screen! Entry fee for each vessel is $30.00

For more information visit our web site or call 305-292-3302.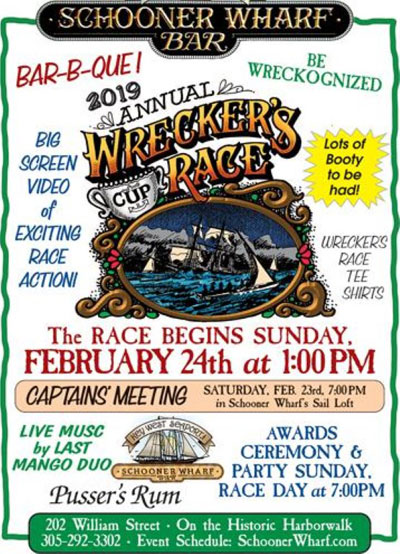 2019 Flyer
For more information, do not hesitate to call Evalena at or Sheree at 292-3302
Past Winners
2005 Race Results 2006 Race Results 2007 Race Results 2008 Race Results 2009 Race Results 2010 Race Results 2011 Race Results 2012 Race Results 2013 Race Results 2014 Race Results 2015 Race Results 2016 Race Results 2017 Race Results 2018 Race Results